Elections, Delegations, and Romero, Oh My!
March is always one of the busiest months in El Salvador. The mangos, jocotes, cashew fruits, and avocados fill the street vendors' carts. The sun seems to work on overtime. Delegations of spring breakers, elections observers, and Romero enthusiasts make their pilgrimages through all of the sacred historic sites while also learning about the current reality. 2015 has proven to be no different! At the beginning of the month, Salvadorans exercised their democratic right by stuffing the ballot boxes. Finally, we have those results, which you will find in this issue of SHARE's Newsletter. Plus read on for news about Monseñor Romero's beatification.
---
Elections
Some of you may be wondering why elections results have been so slow. The 2015 elections saw the most confusion and obstacles compared to other elections of recent years The combination of a new ballot featuring candidates' faces rather than parties' flags, the ability to vote for candidates of multiple parties, and poor organization by TSE made for a complicated process. The final results were just published and can be found through the following hyperlinks on the TSE website.
Mayoral Elections Results:
Some note-worthy victories for the FMLN took place in San Salvador and San Miguel. These two major cities change hands during these elections. Nayib Bukele, San Salvador's mayor elect, ran a campaign filled with hope and change for the future. There are many expectations for this young politician, which all are waiting on the edge of their seats to see if he fulfills those within the next three years.
Making news in Santa Tecla, Roberto D'Aubusson Jr., the son of the man who both founded ARENA and ordered the assassination of Monseñor Romero, won the mayoral seat.
Legislative Assembly Elections Results:
Both ARENA and the FMLN won 8 spots of the 20 total that represent El Salvador in the Parliament.
---
Romero
Earlier this month, news came from the Vatican officially declaring Monseñor Oscar Romero a martyr. His beatification ceremony will take place here in San Salvador on May 23rd. This news comes at a very exciting time. Hundreds of people from around the world are landing this week in El Salvador to take part in the commemoration of the 35th anniversary of Romero's assassination. From marches to masses to forums and so much more, the spirit of Romero will come alive once more. This Salvadoran martyr and international saint shall rise again this week in the global community flocking to his sacred homeland. Que viva Monseñor Romero!
---
Saying Salú!
It has been a pleasure writing for all of you for the last eight months. The experience as a volunteer that I have gained during my time at SHARE is invaluable; however, the opportunity has risen for me to become a full-time employee in another Salvadoran NGO. Thank you for your inspiring passion and support of SHARE. Que sigan luchando! -Claire Moll
---
Look for more photos and reflections on the SHARE blog and our Facebook page!
Breaking the Silence: Rutilio Grande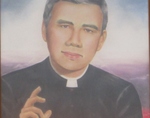 Our dear Monseñor Oscar Romero has been receiving a lot of well deserved attention lately. However,
on March 12th we remembered the other man on the pathway to sainthood
who is equally deserving of international praise. Father Rutilio Grande was martyred 38 years ago.
It is widely held that if not for his death, Romero may never have become the international symbol for truth and justice that he is today.
---
We are Hiring!
Apply today to be our newest team member! We are looking for a passionate, driven individual to be our Grassroots Coordinator.
Check out our listing on Idealst for more information.
---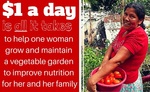 ---
Follow the NWS and the Romero Delegations
during their time in El Salvador!
---
"If they kill me, I will rise again in the Salvadoran people"-Oscar Romero
---
Support Solidarity Work in El Salvador!





Commit to $10 a month!
---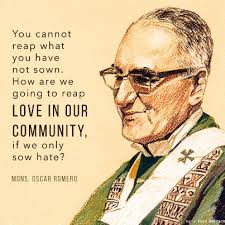 ---
Employer Matching Gifts Program
We are excited to announce that we are now using
Double the Donation
to make employer matching gifts easier than ever! Go to
Double the Donation
to see how much your current or past employer will match!
---
To stay up-to-date on SHARE's work in El Salvador, follow us on Facebook.