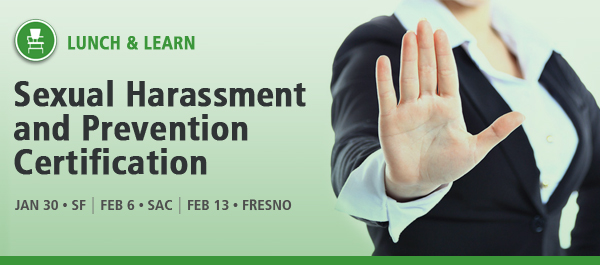 LUNCH & LEARN

SEXUAL HARASSMENT PREVENTION CERTIFICATION
3 DATES & LOCATIONS: JAN 30 • SF | FEB 6 • SAC | FEB 13 • FRESNO

Although the state only requires employers with over 50 employees to provide the training, Sexual Harassment & Discrimination Prevention Training is strongly recommended for all California employers regardless of the size. Everyone in a supervisory, management or perceived supervisory role should be trained to prevent sexual harassment and discrimination. VMA's Human Resource consultant, Richard Lord, will present training that meets the State's requirements for AB1825. Attend this 2-hour training over lunch and receive a certificate of completion.




PRESENTER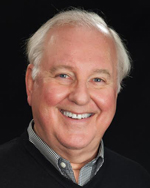 Richard Lord, VMA's new HR consultant, is the founder and principal consultant for Solutions Human Resource Group, Fresno. Richard has extensive knowledge in the administration of human resources and employee benefits gained through four decades of hands-on experience. Over the course of his career he has planned and led the development of all major focus areas within Human Resources. This includes work in employee benefits, vompensation, wage and hour administration, employee relations and recruitment. In addition, VMA members also have access to human resource assistance through Doug Moore and PIA's Jim Kyger.



QUESTIONS & MORE INFO


Please contact Laura Vargas at Laura@VMA.bz or (415) 489-7625.

Visual Media Alliance

Support for creative, web media, marketing and print businesses


665 Third Street, Suite 500, San Francisco, CA 94107 | phone: 800.659.3363 | fax: 800.824.1911 | info@vma.bz
Visual Media Alliance (VMA) and VMA Education are nonprofit trade associations dedicated to providing a variety of benefits and money saving programs to creative, web, marketing and print businesses in Northern and Central California and Northern Nevada. We were formerly known as the Printing Industries of Northern California - PINC. Our purpose is to deliver what it takes to help our members become more successful and profitable in their businesses. To accomplish that goal, we provide personal and professional development programs for both owners and employees.

Education is the cornerstone of the programs we offer. Since it is business-centric education, it encompasses many formats including dinner meetings, management seminars and classes, webinars, conferences, and hands-on technical training. Our most popular programs, however, are our insurance services, offering the lowest group rates and tailored to the needs of our industry. Learn more about membership.