Dear VARD members & friends

:
In this issue:
Fenn rezone proposed for North of downtown Victor
Two openings on the Teton County Planning & Zoning Commission - Apply today!
​
---
Victor to Consider Zone Change for Large Hotel/Short-term Rental Project
Developer Jon Fenn has submitted a request to the City of Victor for a
zone change on a 20-acre parcel 1/2 mile north of downtown along Highway 33
.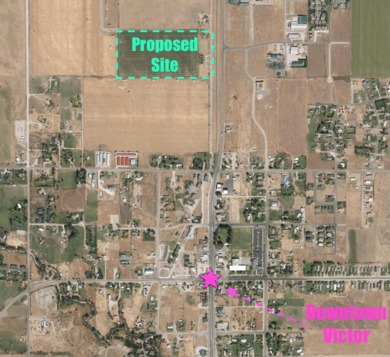 Location of the proposed project site.
If the rezone is granted, it will clear the way for a large project to include a 46-68 room hotel, over 100 short-term rental units, and possible year-round residential units at the very back of the site.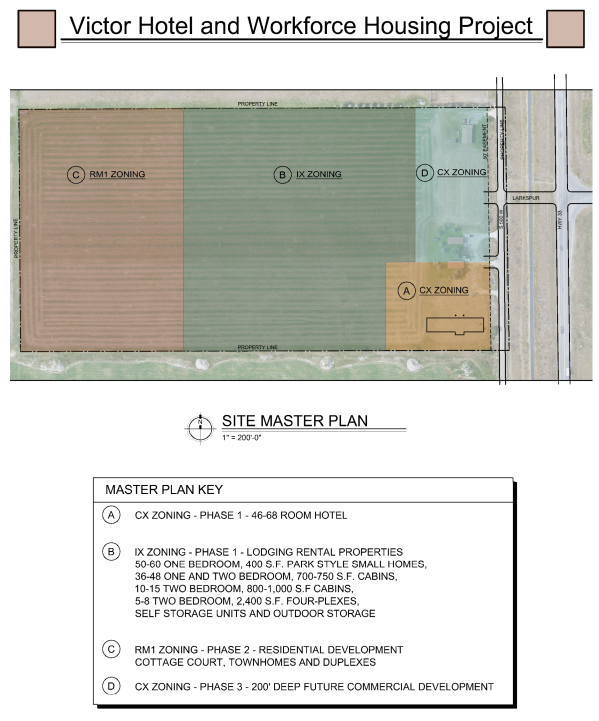 Click image to view master plan in detail.
Currently, most of the site is zoned for medium-density residential, with a small area zoned "Neighborhood Commercial" adjacent to the highway.
Valley Advocates' Position:
We at Valley Advocates have studied the project extensively, and our board met with Fenn to discuss the details of the project. After careful analysis and debate, we are
unsupportive
of the project until key issues are addressed.
Here is our comment letter
.
Issue #1: Encouraging sprawl. First, we are concerned about the impact a commercial spot-zone 1/2 mile north of downtown will have on Victor's commercial core. As seen in map above, the project site lacks adjacency to the city's core.
For years the city has diligently pursued a downtown-first strategy which seeks to spur commercial and multifamily development on the many vacant parcels in the city's core.
In 2014, a community charrette for Victor's downtown
established a vision for a thriving downtown
brought about by core-focused development - specifically through the strategic development of vacant parcels in the city's core.
The general community's 2014 visualization for downtown, created during the 2014 Victor City Code re-write.
We are concerned that a new commercial island in the middle of a residentially-zoned area outside of the downtown area may stifle development in the core. Post-recession recovery is fragile; we want to ensure downtown is on solid footing before large developments are approved on the city's outskirts.
Issue #2: Another hotel is already proposed for Victor's downtown core. The city has now received an application for
another hotel
- the Cobblestone Hotel - with 56 rooms,
in a prime location for lodging on Main Street, just north of Wildlife Pizza.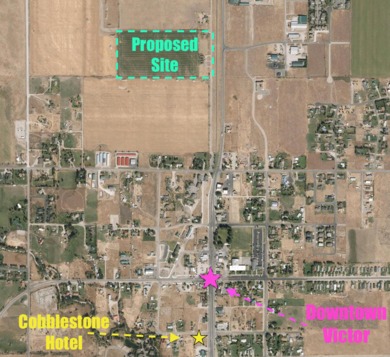 The Cobblestone Hotel is proposed just north of Wildlife Pizza on Main Street.
There are also several other housing and short-term rental developments also in the planning or construction stages. With all the current development underway that is occurring within the city's planning and policy framework, we fear this rezone proposal could undermine the thoughtful, incremental growth the city has worked so diligently to promote. (And yes, we'll keep you posted as the
Cobblestone Hotel
moves through the City's public process.)

Inital rendering of the Cobblestone Hotel. Click to view.
Issue #3: No guarantee of affordable housing. The proposal is pitched as providing affordable housing, however there is no guarantee that the units will be affordable to Teton Valley's workforce. Sales prices are not known, and the units will not be deed-restricted to cap maximum sales price.
Issue #4: Setting a precedent for spot-zoning. Victor has pursued a clear strategy in de-annexing and downzoning the area west of Hwy 33 and north of Cedron Road in order to promote downtown development. If this spot-zone is granted, other landowners will want the same deal. We think that Victor should stay the course with its deliberate planning and zoning strategy, and that rezones of this scale in the city's northwest quadrant should be considered through comprehensive planning - not piecemeal requests.
Issue #5: The devil's in the details. Finally, we are concerned that the development concept is too vague to be granted rezone approval. More information is needed to understand use, architecture, landscaping, site design, road/traffic improvements, infrastructure, phasing, and other project elements.
Though these issues are significant, they aren't insurmountable. We have offered to assist Fenn to draft a development agreement, explore affordable housing tools, and to hold a community charrette to gather input on project design. We feel that a community-driven development plan and thoughtful development agreement could help address the issues stated above. Providing assistance in these matters is a service we offer to all developers, and we do so to promote collaboration and cooperation in community planning. We hope the opportunity for collaborative solutions presents itself with this proposal.
How to learn more and submit comments:
The public hearing will be held on Tuesday, September 19, 2017 at Victor City hall at 7pm. Public comment will be taken at the hearing.
Written public comment is due on Tuesday, September 12, 2017 at 5pm, and can be submitted to Victor City Planner Josh Wilson at
joshw@victorcityidaho.com
. Mr. Wilson is also avaible to answer questions and take comments.
---
Teton County Needs 2 Planning & Zoning Commissioners
This is your chance to have a lasting impact for Teton Valley! Teton County is currently accepting applications for two seats on the Planning & Zoning Commission. Each term is for four years, and commissioners can expect to a commitment of 1-2 evenings meetings per month. Applications are due by Wednesday September 20th. For more information, and to apply, click here.